Confirmation gives additional payment assurance to the exporters.
When an irrevocable letter of credit is issued, the risk of payment rests with the issuing bank. This type of letter of credit is defined as an unconfirmed letter of credit.
However, in certain circumstances, the exporter may find the issuing bank not fully trustworthy and/or the country where it is located has high political or economic uncertainty.
In this situation, the exporter should consider requesting a confirmed letter of credit.
Confirmation is a security tool for the exporters. Confirmation eliminates country risks and insolvency risk of the issuing bank.
Step by Step Explanation of Letter of Credit Confirmation Process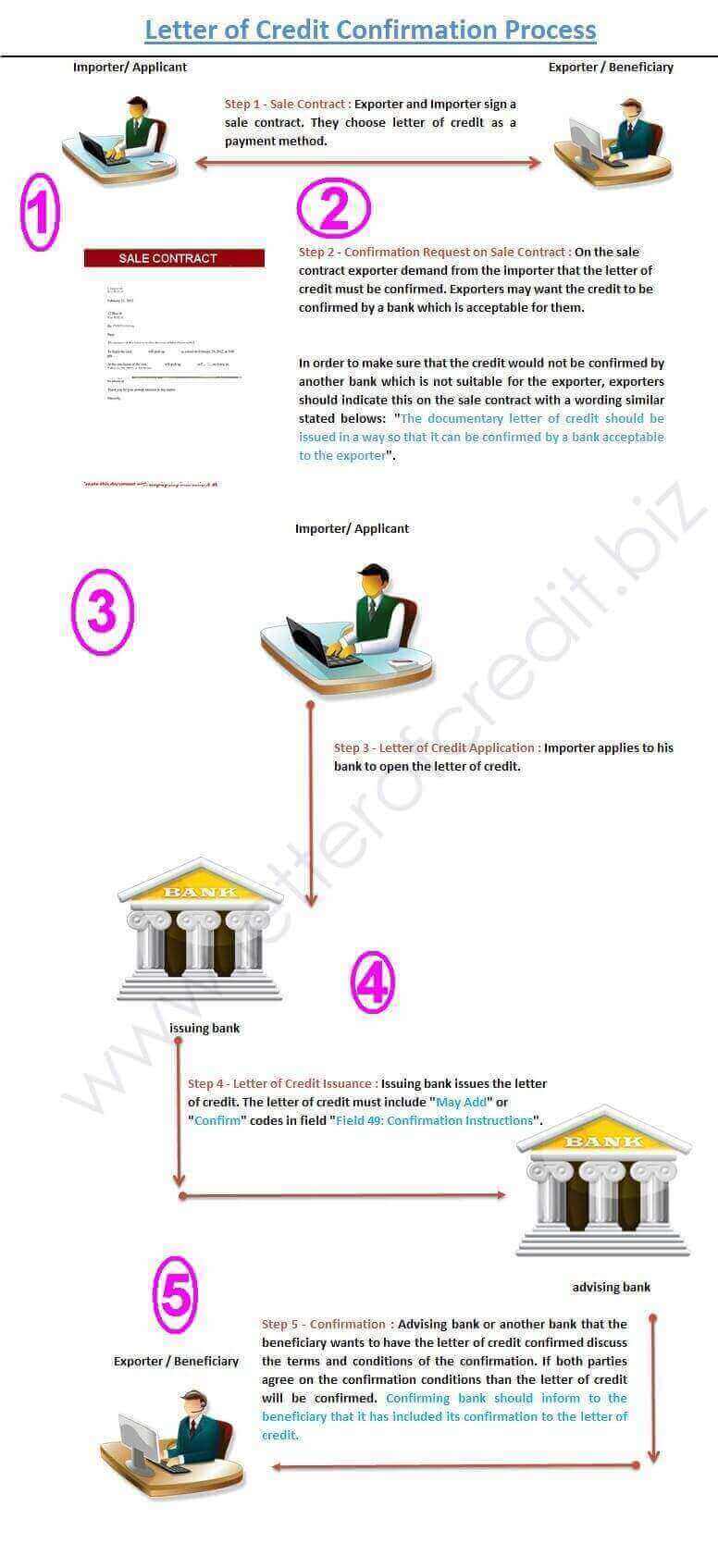 Step 1 – Sale Contract:

 The exporter and importer sign a sale contract. They choose letter of credit as a payment method.

Step 2 – Confirmation Request on Sale Contract:

On the sales contract, the exporter demands a confirmed letter of credit. The exporter may wish the credit to be confirmed by a bank which is acceptable for the exporter. In order to make sure that the credit is not be confirmed by another bank, which is not suitable for the exporter, the exporter should indicate this on the sales contract with a wording similar stated bellows:
"The documentary letter of credit should be issued in a way so that it can be confirmed by a bank acceptable to the exporter".
Step 3 – Letter of Credit Application:

 The importer applies to his bank to open the letter of credit.

Step 4 – Letter of Credit Issuance:

 The issuing bank issues the letter of credit. The letter of credit must include "May Add" or "Confirm" codes in field "Field 49: Confirmation Instructions".

Step 5 – Confirmation:

Advising bank or another bank that the beneficiary wants to have the letter of credit confirmed discuss the terms and conditions of the confirmation. If both parties agreed on the confirmation conditions, then the letter of credit will be confirmed. Confirming bank should inform to the beneficiary that it has included its confirmation to the letter of credit.