After reading this post, you should understand why documentation is very important under letters of credit.
Additionally, most frequently used document links have been supplied on later parts of this article.
There are many important points in a typical letter of credit transaction that need to be taken care of professionally.
However, documentation is much more important than any other aspects of the letters of credit transactions, because the documentation forms the backbone of the letters of credit structure.
In order to understand the importance of the documentation, please assume that you are an exporter, whom has just shipped an order.
How can you prove to the issuing bank that you have make the shipment according to the letter of credit terms?
Which means that;
In order to prove above points to the issuing bank, you have to supply a relevant transport document.
Furthermore, let us also consider that the delivery term was CIF Incoterms 2010, which obligates the exporter, which is you, to arrange and pay the insurance for the shipment.
Once again, you have to supply an insurance policy to fulfill your insurance responsibility.
The examples can be extended, but perhaps the main idea is very clear. Letters of credit transactions are related to the documents only, not actions.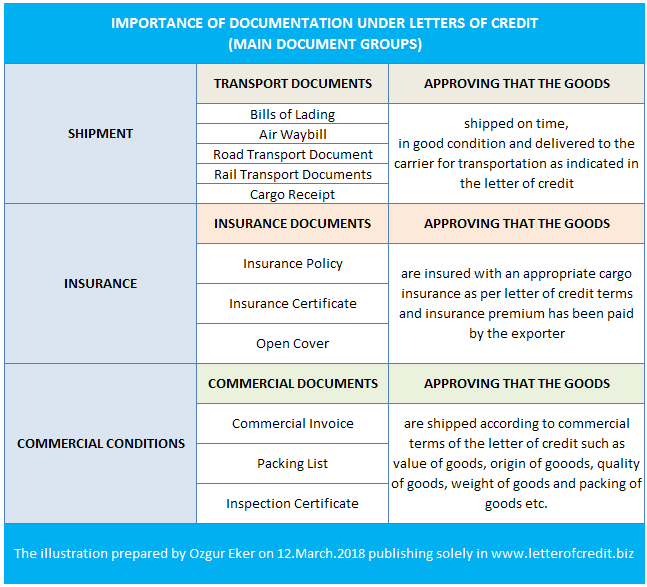 The importance of the documentation is stated in UCP 600 article 5 as follows:
Banks deal with documents and not with goods, services or performance to which the documents may relate.
In addition, every condition stated in the letter of credit must be connected to a document. This point is also clearly indicated in UCP 600 article 14 as below.
If a credit contains a condition without stipulating the document to indicate compliance with the condition, banks will deem such condition as not stated and will disregard it.
Documents Most Frequently Used Under Letters of Credit Transactions:
Transport Documents:
Insurance Documents:
Financial Documents:
Commercial Documents:
Official Documents: