Letter of Credit References:
We have completed our export letter of credit consultancy services with success in regards to a letter of credit which is issued by Coris Bank International Benin on 12.Nov.2019.
The letter of credit number was LC23/IMP/19. Letter of credit issued in English language.
Total letter of credit amount was EUR 803.400,84. The letter of credit allows both partial shipments and transshipments.
Letter of credit confirmed by Bred Banque Populaire Paris France. Beneficiary located in U.K, applicant in Senegal and manufacturer in Turkey.
The goods shipped from Turkey to Senegal.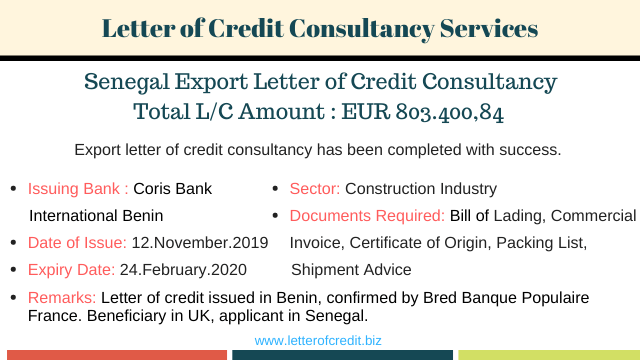 Documents Required:
Specific Conditions and Our Work:
The beneficiary has supplied us the letter of credit.
We have checked the letter of credit and following amendments have been made.
Because exporter and beneficiary located in different countries, bill of lading and certificate of origin must be presented to the confirming bank as received from the manufacturer.
Following phrase inserted to the letter of credit under field 47-A. "Third party documents are acceptable."
According to the original letter of credit terms the shipment advice must be sent to the issuing bank 1 week before shipment. Because many information stated on the shipment advice may change on the actual documents, this condition can be a source of discrepancy.
Following phrase inserted to the letter of credit under field 47-A. "Name of Vessel, Expected Date of Shipment, Number of Packages, Net and Gross Weight indicated on the advice of shipment are all estimates and may subject to change on actual shipment documents. Differences between the advice of shipment and actual shipment documents do not constitute a basis for a discrepancy."
Shipping documents have been prepared and checked by us.
The documents have been presented to the confirming bank.
Conclusion:
All presentations have been accepted by the confirming bank on first presentation.