Letter of credit conditions must be clear and precise without leaving any room for ambiguity.
In terms of insurance documents, the letter of credit must clearly states:
The amount of insurance coverage
The assured party
If endorsement is required and its method
The insurance coverage as per Institute Cargo Clauses
Following insurance document condition stated in swift message MT 700 under field 46A – Documents Required is a good example:
Letter of Credit Example:
44E: Port of Loading/Airport of Departure
Any Port in Ecuador
44F: Port of Discharge/Airport of Destination
Mundra Port, India
46A: Documents Required
Full set of original on board ocean bill of lading, issued to order of issuing bank, marked freight prepaid and notify (1) issuing bank (2) applicant.
Insurance Policy / Certificate issued in favor of the beneficiary and blank endorsed for full CIF value of the goods plus 10 percent covering Institute Cargo Clauses (A), Institute War Clauses (Cargo) and Institute Strike Clauses (Cargo) covering risks warehouse to warehouse with claims payable in India and showing the name and address of the settling agent in India.
But in some letters of credit, especially the old fashioned ones, carry an insurance document clause not covering above points but simply demanding an All Risks Insurance Policy or Certificate.
Some examples are:
Insurance certificate or policy in negotiable form dated not later than the bill of lading date covering all risks for 110 PCT of CIF value and indicating premium paid.
Negotiable insurance policy or certificate in duplicate for full invoice value plus ten percent irrespective of percentage covering the Institute Cargo Clauses (All Risks).
The problem with the all risks insurance conditions is that when you contact with an insurance company, they most probably will inform you that they can supply you an insurance policy covering Institute Cargo Clauses (A) instead of All Risks clauses just like below image. 
Insurance Policy Example: Institute Cargo Clauses (A) instead of All Risks Clause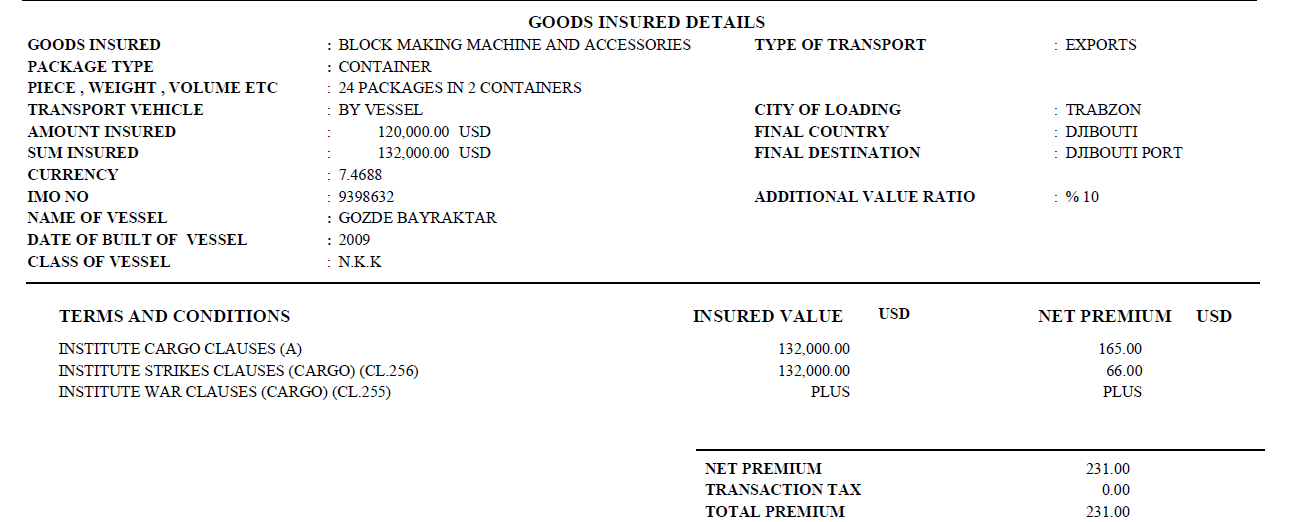 The question comes to the mind of the exporter, is it safe to present such an insurance policy according to the letters of credit rules.
In order to answer this question we must look at the latest version of letters of credit rules: UCP 600 and ISBP 745.
UCP 600 : Article 28 – Insurance Document and Coverage
h.When a credit requires insurance against "all risks" and an insurance document is presented containing any "all risks" notation or clause, whether or not bearing the heading "all risks", the insurance document will be accepted without regard to any risks stated to be excluded.
ISBP 745: Insurance Document And Coverage – Application of UCP 600 article 28
K18) When a credit requires "all risks" coverage, this is satisfied by the presentation of an insurance document evidencing any "all risks" clause or notation, whether or not it bears the heading "all risks", even when it is indicated that certain risks are excluded. An insurance document indicating that it covers Institute Cargo Clauses (A) or Institute Cargo Clauses (Air), when dispatch is effected by air satisfies a condition in a credit calling for an "all risks" clause or notation.
Conclusion:
If letter of credit does not specify the risks to be covered under the insurance document, but only indicating an All Risks policy, this condition is to be satisfied by presentation of an insurance policy covering Institute Cargo Clauses (A) for sea shipments and Institute Cargo Clauses (Air) for air shipments.