The purpose of taking out insurance is to receive compensation in case the goods do not arrive or are damaged.
Therefore, the policy holder must ensure that the sum insured is adequate to replace the goods.
The sum insured should include the price of the goods as well as the cost of transport and a new insurance. (1)
According to the letters of credit rules, UCP 600 and ISBP 745, the insurance document, insurance policy or certificate, must indicate the amount of insurance coverage and be in the same currency as the credit.
If there is no indication in the credit of the insurance coverage required, the amount of insurance coverage must be at least 110% of the CIF or CIP value of the goods.
Example 1: Marine Insurance Coverage Amount Calculation
Field 32B: Currency Code, Amount
Field 46A: Documents Required
Insurance Policy / Certificate issued to the order of applicant in duplicate covering all risks for the CIF value of the goods plus 10 pct claims payable in Djibouti and must indicate the agent name and address in Djibouti.

According to our example, total CIF value of the goods is USD 120.000,00. The minimum insurance cover must be %10 higher than total CIF value, so that the minimum insurance coverage indicated in the insurance policy should be USD 132.000,00.
Insurance Coverage Amount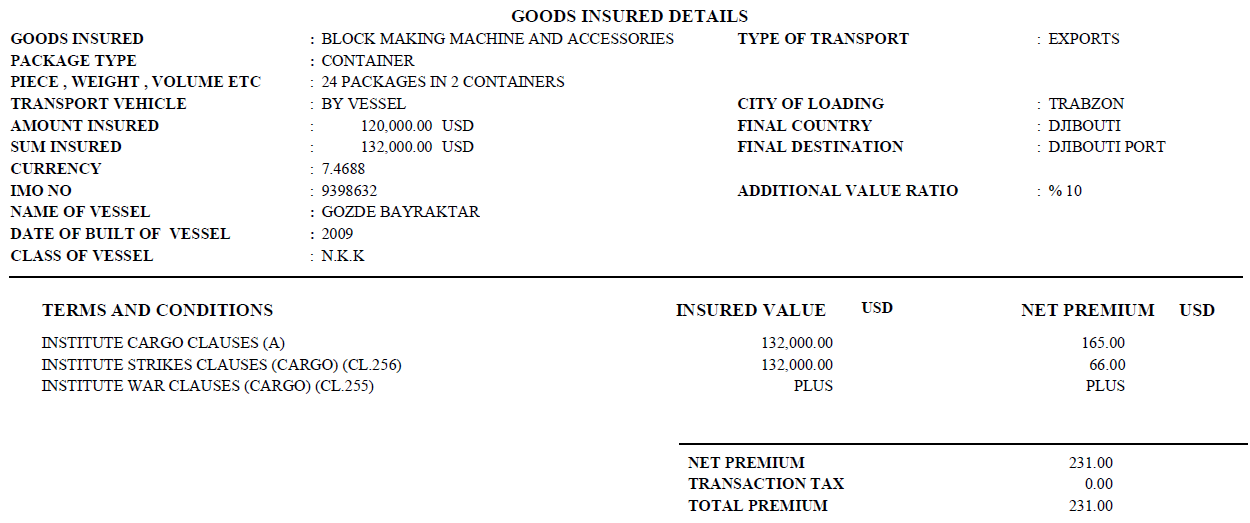 References:
Documentary credits in practice, Reinhard Längerich, Second edition – 2009, Published by: Nordea, Page:165