Transaction Background:
Both importer and exporter are engaged in renewable energy sector.
The buyer is one of the biggest renewable energy company in India.
The seller is also a US based multinational company, supplying raw materials for the manufacture of wind operated electricity generators, wind turbines.
Letter of Credit References:
We have completed our export letter of credit consultancy services with success in regards to a letter of credit which is issued by Indusind Bank Limited on 04.February.2021.
The letter of credit number was OLC0009210039296. Letter of credit issued in English language.
Total letter of credit amount was USD 680.004,52. The letter of credit allows both partial shipments and transshipments.
Letter of credit confirmed by JP Morgan Chase Bank, N. A., New York, USA. Beneficiary located in U.S.A. and applicant resident in India. The goods had been shipped from beneficiary's factory in Ecuador to India.
Port of loading was Guayaquil Port, Ecuador and port of discharge was Mundra Port, India.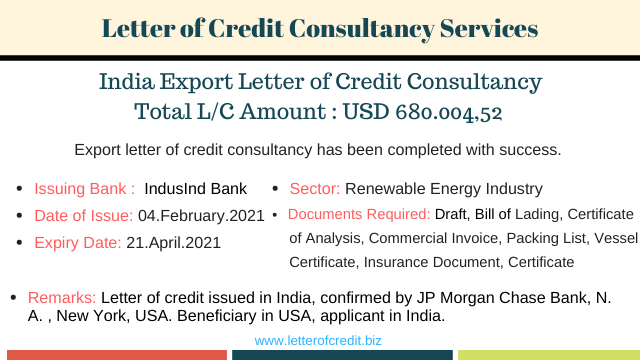 Documents Required:
Certificate of Analysis
Vessel Certificate
Beneficiary's Certificate
Specific Conditions and Our Work:
The beneficiary had contacted us with a question regarding insurance documents under the letters of credit.
After replying the question, the beneficiary told us that they were about to sign a contract with an Indian buyer.
The buyer insisted on CIF delivery term, so we worked with the beneficiary to find a suitable insurance company that can supply us an insurance certificate that would be acceptable under the letter of credit.
After solving the insurance document problem, we started to work on the draft letter of credit.
We have checked the draft letter of credit and eliminated possible problem areas.
The letter of credit issued by Indusind Bank Limited and confirmed by JP Morgan Chase Bank, N. A., New York, USA.
The beneficiary completed despatch of goods in 5 partial shipments.
Shipping documents have been prepared and checked by us.
The documents have been presented to the confirming bank.
Conclusion:
All presentations have been accepted by the confirming bank on first presentation.