Marine insurance is a type of commercial liability insurance that provides coverage (financial backing) against perils and losses associated with the transportation of goods.
Marine insurance is possibly the oldest type of commercial insurance in the world, dating as far back as the thirteenth or fourteenth century.(1)
According the current letter of credit rules, when the insurance document indicates that it has been issued in more than one original, all originals must be presented.
For example, if the insurance policy states on its face that 'this policy has been issued in two originals to the same effect', then both originals must be presented.
If the issuing bank finds out that all original insurance documents have not been presented, then the issuing bank will raise a discrepancy, which is known as all originals of insurance policies have not been presented.
Discrepancy Example: All Originals of Insurance Policies Have Not Been Presented:
A letter of credit has been issued in SWIFT format, subject to UCP latest version, with the following details:
Letter of Credit Conditions
Field 45A: Description of Goods and or Services: 100mtons of Iron Ore. Delivery Terms: CIF Port of Rotterdam, Netherlands Incoterms 2010.
Field 46A: Documents Required:
A signed invoice in duplicate indicating the details of the descriptions of goods as per the L/C
Certificate of Origin issued and certified by the Chamber of Commerce in Beneficiary's country indicating South African origin of the goods.
Insurance certificate or policy in assignable form and endorsed in blank for 110% CIF commercial invoice value covering all risks showing claims payable in Netherlands in commercial invoice currency.
A full set (3/3) original bills of lading issued to the order of the issuing bank marked "freight prepaid"' and to notify the issuing bank and the applicant.
The beneficiary presented an insurance policy as shown on the below picture.
Insurance Policy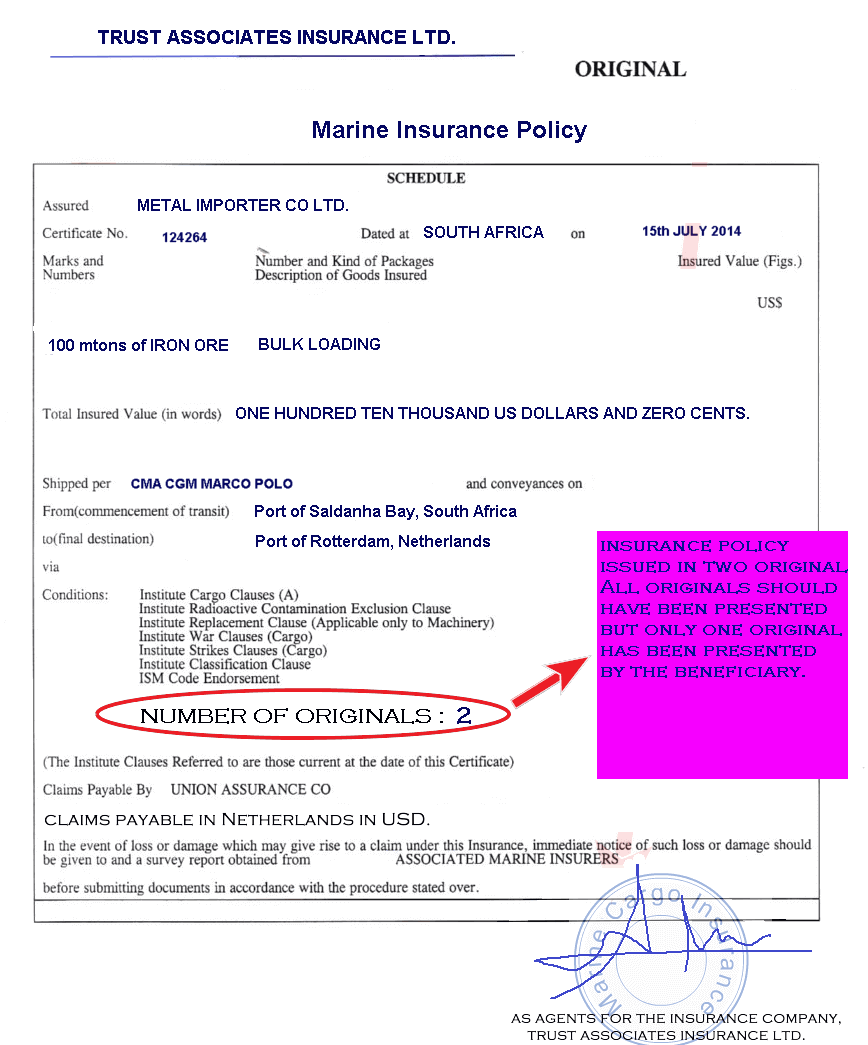 Insurance Policy Discrepancy: The insurance policy indicates that it is issued in two originals. All of the original insurance policies should have been presented but only one original insurance policy presented.
Reason for Discrepancy: When a credit requires the insurance document to be issued in more than one original, or when the insurance document indicates that it has been issued in more than one original, all originals are to be presented and are to appear to have been signed.
References:
Keenan, Marie. 2016. "Marine insurance." Salem Press Encyclopedia Research Starters, EBSCO host (accessed February 24, 2018).