As per letter of credit rules and international standard banking practices a certificate of origin should not specify description of goods different than what is stated in the letter of credit.
A certificate of origin is to appear to relate to the invoiced goods, for example, by:
a goods description that corresponds to that in the credit or a description shown in general terms not in conflict with the goods description in the credit; or
referring to a goods description appearing in another stipulated document or in a document that is attached to, and forming an integral part of, the certificate of origin.
If the issuing bank finds out that the certificate of origin is showing different description of goods, the the issuing bank raises a discrepancy, which is known as description of goods on the certificate of origin differs from the letter of credit.
Discrepancy Example: Description of Goods Differs from the Letter of Credit
A letter of credit has been issued in SWIFT format, subject to UCPURR latest version, with the following details:
Letter of Credit Conditions
Field 45A: Description of Goods and or Services:
Leather Office Chairs 250 pcs. Delivery Terms: FOB Istanbul Port, Turkey Incoterms 2010.
Field 46A: Documents Required:
Original commercial invoice and five copies all duly signed in the name of applicant showing all the details of the goods and the prices as per proforma invoice no LY12141516 stating this letter of credit number.
Certificate of Origin in one original and two copies issued in the name of the applicant stating that the goods being exported are of Turkish Origin. This certificate of origin must be issued and authenticated by the chamber of commerce or union of industry in Turkey.
Full set of shipping company clean shipped on board marine bill of lading made out to the order of issuing bank notify applicant marked freight payable at destination.
The beneficiary presented a Certificate of Origin as shown on the below picture.
Certificate of Origin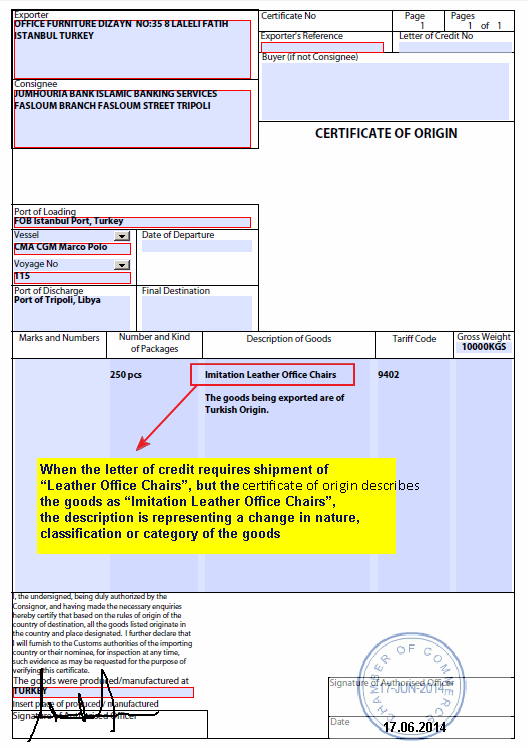 Discrepancy: The letter of credit requires shipment of "Leather Office Chairs", but the certificate of origin describes the goods as "Imitation Leather Office Chairs", which means that the description is representing a change in nature, classification or category of the goods.
Reason for Discrepancy: Description of goods on the certificate of origin should be shown in general terms but not in conflict with that stated in the letter of credit.