In international trade transactions, a sales contract defines the roles and responsibilities of the parties to each other.
Without a sales contract, it would not be possible to define the rights and obligations of the exporters and importers.
Definition: Contract of sale is defined as "formal contract by which a seller agrees to sell and a buyer agrees to buy, under certain terms and conditions spelled out in writing in the document signed by both parties.
Also called agreement of sale, contract for sale, sale agreement, or sale contract." (Source : www.businessdictionary.com)
A sales contract can cover any kind of sales action such as sales of intellectual property rights, sales of real estate etc… On this page, we will be focusing only on international contracts for sale of the goods.
Usage: Under international business transactions, the exporters and importers define their roles and responsibilities to each other with sales contracts.
A sales contract is a legally binding document for both parties.
Proforma Invoices vs International Sales Contracts
There is another document available in international trade, used in the same way as the sales contract. The name of this document is the proforma invoice.
In practice, smaller transactions are handled by proforma invoices, whereas medium and higher volume transactions are covered under sales contracts.
The sales contracts governing bigger trade transactions should be written by the lawyers.
Another point of consideration when deciding to use a proforma invoice or sale contract is the duration of the business.
If business transaction will be not completed comparatively in a short period of time, such as 6 months, then the sales contract should be preferred instead of the proforma invoice.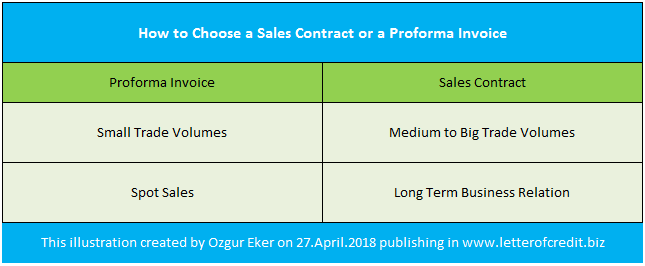 Contents of the Sales Contract
Company information of the seller and the buyer (company name, address, contact details, etc.)
Subject of the sale contract
Description of the goods
The unit price of the goods, total contract quantity and total contract amount
Package and shipment details
Delivery date or delivery period
Penalties of late shipment
The delivery terms according to Incoterms
Payment terms (irrevocable documentary credit, cash against documents, electronic fund transfer)
Definition of trade documents that will be supplied by the exporter, how are they completed, how many originals and copies will be supplied
Force Majeure ( Act of God)
Resolution of disputes (arbitration or litigation).
Authorized signatures
Special Hints Regarding the Sales Contract From ISBP (International Standard Banking Practice):
UCP 600 Article 4 states that
"A credit by its nature is a separate transaction from the sale or other contract on which it may be based. Banks are in no way concerned with or bound by such contract, even if any reference whatsoever to it is included in the credit. Consequently, the undertaking of a bank to honour, to negotiate or to fulfill any other obligation under the credit is not subject to claims or defenses by the applicant resulting from its relationships with the issuing bank or the beneficiary…An issuing bank should discourage any attempt by the applicant to include, as an integral part of the credit, copies of the underlying contract, proforma invoice and the like."
Letter of Credit Consultancy
Letter of Credit Consultancy:


Struggling with letters of credit. We can help. We check the credits, prepare draft documents and control them before presentation. With competitive prices. 10 years of experience, more than 300 hundred references. Please click here for more details.