Amer from Ajman (United Arab Emirates (UAE)) asks this question. I would like to thank him once again for this great question.
Question: I have an L/C as follows:
43P: Partial Shipment: Allowed
43T: Transshipment: is not Allowed.
I shipped the goods in 5 container as below. Which means that I had submit 2 B/L s for the same L/C. Please keep in mind that all other details will be the same.
Can I know is it allowed to submit 2 B/L for my L/C.
Thanking you.
2 container in one vessel on 11/02/2014
3 container in another trip on 18.02/2014
Answer: First of all, we need to determine that the shipment, which is effected as indicated above, could be accepted as a partial shipment or not.
UCP 600 article 31 states that a presentation consisting of one or more sets of transport documents evidencing shipment on more than one means of conveyance within the same mode of transport will be regarded as covering a partial shipment, even if the means of conveyance leave on the same day for the same destination.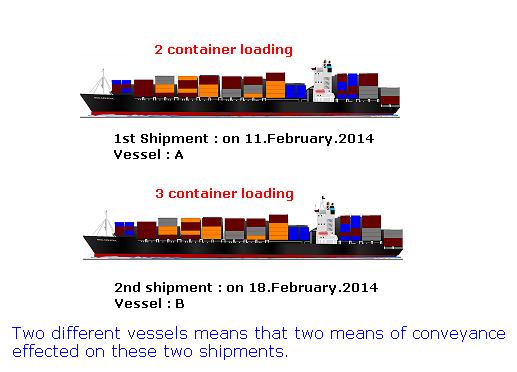 As indicated in UCP 600 if more than one means of conveyance has been affected under one letter of credit presentation this will be regarded as a partial shipment.
We understand from Amer's explanations that he has been used two means of conveyance on his shipments. He has loaded two containers to vessel A on 11.February.2014 and remaining 3 containers to Vessel B on 18.February.2014.
After determining that partial shipment has been effected on this presentation, we need to look at the letter of credit text in order to understand, whether partial shipment was allowed or not.
Again, we can see from Amer's information that partial shipment is allowed under respected documentary credit.
Conclusion: Partial shipment has been effected on these shipments and letter of credit allows partial shipments. As a result, beneficiary can submit two sets of bills of lading under the same presentation without any problem.