China has the second largest economy in the world at USD 14.4 trillion after the United States, according to data from the International Monetary Fund (IMF), which shows Chinese economy increased from around USD 12 trillion last year.
China is not only the most crowded, but also the 4. largest country in the world just after Russia, Canada and United States.
By following hard-line communist economic ideology between 1949 and 1982, China was not an eye-catching player in international trade.
After adapting so called market socialism policy in early 80-ies, Chinese economy started to open up to the outside world gradually.
In order to profit from its cheap workforce and unmatched government incentives, the global companies flown in to China.
This process, which is still being continued today, has been accelerated by China's participation in the WTO (World Trade Organization).
China has been a member of WTO since 11 December 2001.
On this page you can find brief information in regards to Chinese economy and international trade, Chinese banks and letter of credit usage tips specific to China.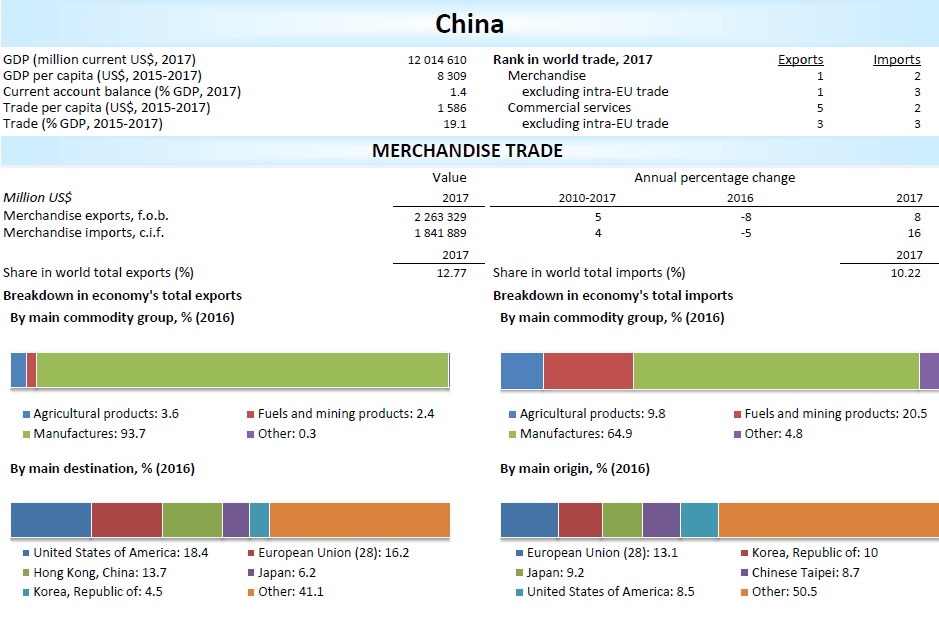 Chinese Exports at a Glance:
As of 2017 China is the top exporting country in the world. China's 2017 exports declared as 2 trillion 263 billion US dollars in value.
China is overwhelmingly exporting manufacturing goods. 93.7 percent of all the exported goods of China are coming from this category.
Agricultural goods plus fuels and mining products together account for six percent of total Chinese exports in 2017.
China is exporting goods to almost all the countries but the most significant export destinations of China are United States of America: %18.4,  European Union (28): %16.2,
Hong Kong, China: %13.7, Japan: %6.2 and Republic of Korea: %4.5.
Top Exported Products of China (2017)
| Agricultural Goods | Non-Agricultural Goods |
| --- | --- |
| Dried vegetables, whole, cut | Automatic data-processing machines |
| Onions, shallots, garlic, leeks | Radio-telephony transmission tools |
| Plants' parts otherwise preserved | Line telephony electrical apparatus |
| Other vegetables not frozen | Electronic integrated circuits |
| Apples, pears and quinces, fresh | Lamps and lighting fittings |
Chinese Imports at a Glance:
China is the 2nd top importing country after the United States. The import trade value of China in 2017 declared as USD 1.84 trillion.
As of 2017, China's main imports are: electronic integrated circuits (USD 228.2 billion), crude oil ($116.6 billion), gold (63.9 billion), iron ore (USD 58.0 billion), motor cars (USD 44.0 billion) and soybeans (USD 33.9 billion).
China's major trading partners were the European Union, Japan, South Korea, the United States and Taiwan.
Top Imported Products of China (2017)
| Agricultural Goods | Non-Agricultural Goods |
| --- | --- |
| Soya beans, whether or not broken | Electronic integrated circuits |
| Malt extract | Petroleum oils, crude |
| Swine meat, fresh, chilled, frozen | Gold |
| Palm oil and its fractions | Iron ores and concentrates |
| Edible offal of bovine animals | Motor cars for transport of persons |
Banks in China:
Banks in China are mostly controlled by central Chinese government.
The "big four" state-owned commercial banks are the Bank of China, the China Construction Bank, the Industrial and Commercial Bank of China and the Agricultural Bank of China, all of which are among the largest banks in the world in total assets.
You can find top state owned banks in China on below table.
In addition to the central government controlled big banks, whom are as listed on above table, there are regional banks who are owned by local governments in China such as;
Bank of Jilin
Industrial Bank
Non-government owned banks in China can be classified under 3 main groups:
Banks that are listed in a stock exchange whose majority is controlled by the public
Banks are privately owned
International banks' China branches and subsidiaries
Letter of Credit Usage Tips Specific to China:
Tips to the Importers:
Letter of credit is not the first payment option of the Chinese exporters. They usually require %30 advanced payment in order to initiate the production.
Importers could convince Chinese exporters to pay via at sight letter of credit.
Quality is a big issue in China. Unfortunately letter of credit could not give %100 assurance against fraudulent exporters.
It is advised to the importers that a pre-shipment inspection certificate has been added to the letter of credit documents.
The pre-shipment inspection must be performed by a credible inspection company.
By adding a pre-shipment inspection certificate to the letter of credit, the importer make sure that the Chinese exporter can't shipped the goods without passing the inspection and getting a compliant inspection certificate.
Do not make advance payments under the letters of credit, because you can't refund your down payment if something goes wrong and the order is cancelled.
If you have to make an advance payment make sure that you get a bank guarantee covering your advance payment.
Tips to the Exporters:
Chinese import customs procedures are not easy to understand by western point of view. For example, some Chinese importers could complete import procedures without obtaining any documents from the exporters. This is very dangerous because letters of credit transactions relies on the documents.
Check your customer, the bank that has issued the letter of credit and the letter of credit itself. Try to make sure that you are working with a reliable company, who has issued the letter of credit from a reputable bank with reasonable conditions.
Make sure that you can comply with the conditions of the letter of credit.
You can get the required documents in a timely manner.