Bill of lading is a transport document covering the carriage of goods by sea.
Consignee means a person entitled to take delivery of the goods under a contract of carriage indicated on a bill of lading.
Notify party means a person that should be notified by the carrier along with the consignee when the shipment arrives at port of discharge.
On today's post I explain the main differences between the consignee and notify party fields of bills of lading.
Differences Between Consignee and Notify Party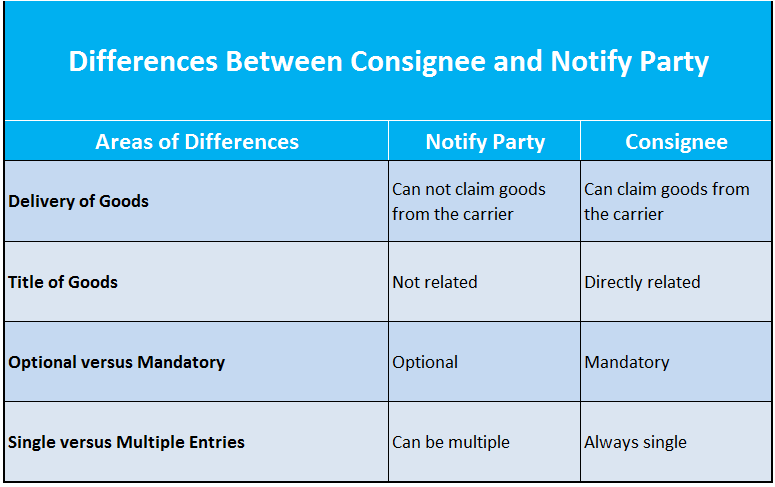 Delivery of Goods:
Carriers hand over goods to the entity stated on the consignee field. Notify party can not claim goods from the carrier under sea shipments.
Optional versus Mandatory Field:
Notify party can also be used as an optional field and need not to be completed. On the other hand consignee field is mandatory and needs to be completed in all occasions.
Title of Goods:
Consignee field determines how title of goods will be delivered from the shipper to the consignee. Notify party has no connection with the title of goods.
Consignee field determines if the bill of lading issued in straight, negotiable or bearer format.
Single versus Multiple Entries:
It is possible to enter multiple company names under the notify party field. On the other hand consignee field always completed with single entities.
Related Articles: