The Boston Consulting Group (BCG) published in cooperation with Swift a new report on consumer payments-exploring key trends in Europe, North America, and rapidly developing economies.
Report also examines the wholesale transaction-banking business, with a focus on the implications of regulatory challenges.
The report discusses the steps that all types of payments players must take in order to succeed.
Global Payments Report 2014:
Published on 28 Nov 2014 – The aim of the report is to provide payments and transaction-banking institutions with a comprehensive overview of major business drivers shaping the industry.
It also provides the reader with recommendations on which specific actions should be taken by various types of players in order to achieve or maintain market-leading positions.
In today's competitive environment, financial institutions must differentiate themselves and bring value to continue to grow.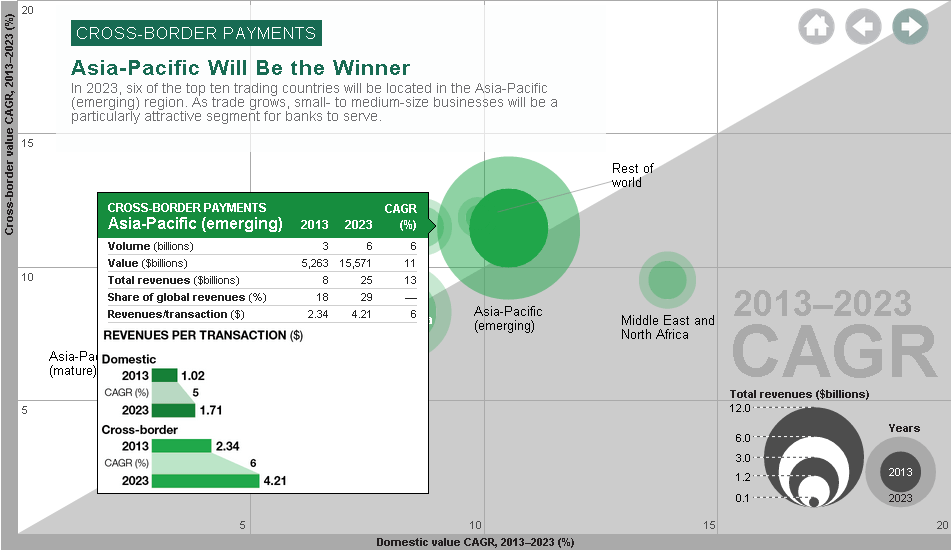 The report in numbers:
In 2013, payments businesses generated $425 billion in transaction revenues, $336 billion in account-related revenues, and $248 billion in net interest income and penalty fees related to credit cards.
Banks handled $410 trillion in non-cash transactions in 2013, more than five times the amount of global GDP.
The value of non-cash transactions will reach an estimated $780 trillion by 2023, a compound annual growth rate of 7 percent. Payments revenues will reach an estimated $2.1 trillion, a CAGR of 8 percent
Stefan Dab, Senior Partner and Managing Director, BCG, says: "The growth in payments and transaction banking, moreover, is driving stiff competition among not only traditional players but new entrants as well. Consequently, financial institutions must differentiate themselves, refine their strategies, and raise their execution skills if they want to remain competitive."
Wim Raymaekers, Head of Banking and Treasury Markets, SWIFT, adds: "We are pleased to work with BCG to provide our customers with insights as to how the payments transaction landscape and revenues will evolve over the next 10 years. Banks can use these insights as input to their payment business strategy and execution, since growth will differ widely by region."
Here is the interactive version of the Global Payments Report 2014.