Anti money laundering is one of the key aspects of international financial transactions.
It is becoming more and more important as governments and financial regulators tighten AML rules and regulations every year.
Nowadays banks and other financial institutions open managerial positions in the AML field such as "Anti-Money Laundering Compliance Testing Officer", "Compliance Manager", and "Chief AML Officer".
Having a reputable certificate would be very beneficial when applying one of these jobs.
Certified Anti-Money Laundering Specialist is a financial certificate which is governed by the organization of Association of Certified Anti-Money Laundering Specialists (ACAMS).
CAMS certificate is very well respected within the industry. Some job positions require Certified Anti-Money Laundering Specialist Certificate.
Additionally ACAMS claim that the certificate holders earn 32% more than their colleagues who do the same job.
Who Can Enter CAMS Examination?
Unlike international trade and finance certificates issued by The London Institute of Banking & Finance such as CITF, CDCS and CSDG, you need to posses certain qualifications in order to take the CAM examination.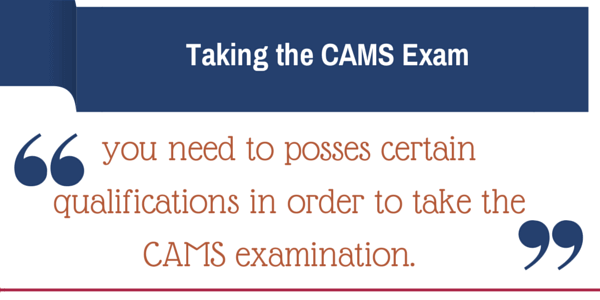 You have to collect a minimum 40 qualifying credits based on education, other professional certification and professional experience in the field. All of these qualifications must be evidenced with an appropriate document.
Education:

Associate Degree 10 credits, Bachelor's Degree 20 credits and Masters Degree/PhD/JD or Equivalent 30 credits. You can select only one option which should be the highest level of education.

Professional Experience:

Allowed period of professional experience is limited to the past 3 years. You will get 10 credits for each year of full-time experience in anti-money laundering or related duties in a financial institution.

Certification:

You will get 10 credit from each acceptable professional certification financial related such as CPA, CPP, CRCM, CFE, CPE, CIA, CA/AML, NASD Series, etc. Any certification program must include a minimum of eight (8) hours of instruction and a certification exam.

Courses:

You will get 1 credit for each hour of attendance at a course/seminar/web seminar/conference/educational and or training session on the topic of money laundering control and/or related subjects.
You can calculate your credit score online by using online CAMS Calculator.
You have to submit supporting documents for the requirements outlined above.
You have to provide three professional references.
What is the CAMS Examination Format?
The CAMS examination consists of 120 multiple choice and multiple selection questions. Examination period is 3 ½ hours. Also there is no penalty for guessing. In order to increase your chances of passing, you can guess the correct answer instead of leaving a question unanswered.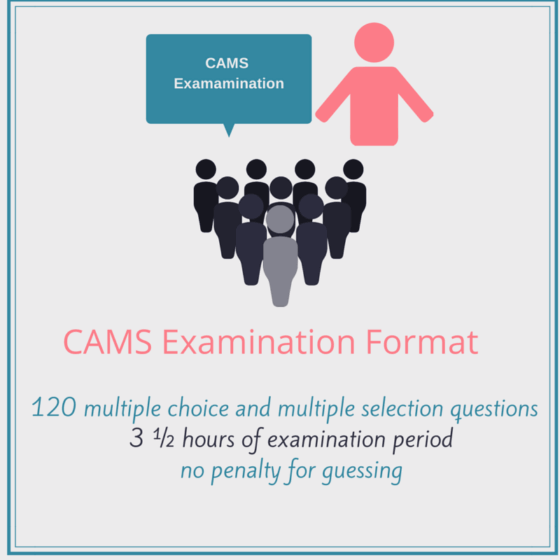 How to Register to the CAMS Examination?
First of all you have to buy CAMS examination package. Purchasing the CAMS Examination Package gives you all the necessary tools to successfully take the CAMS examination. The package includes:
Electronic and audio study materials
Study tips, flashcards and practice questions
Online CAMS Preparation Seminar
The CAMS examination
How Much Does It Cost to Take CAMS Examination?
CAMS examination fee is USD 1,595.00 for private sector members and USD1.145,00 for public sector members.
How to Schedule the CAMS Examination?
Once your payment is received and application approved, you will be sent an ID number and instructions to schedule your examination. CAMS examination centers are located across the globe at hundreds of locations.
Click here to find a testing center near you.
What Should be the Main Considerations When Taking the CAMS Examination?
Early Arrival to the Test Center:

Plan to arrive 15 minutes before the scheduled appointment to allow time for check-in. Candidates who are late may not be allowed to test.

Identification:

Bring with you one form of a current and valid government-issued identification bearing a photograph and a signature. The name on the identification must match the name used for registration.
Valid forms of primary identification include:

Driver's license
State-issued identification card
Military identification
Passport
Other government-issued identification
Forbidden Items:

Purses, bags, and coats are not permitted in the testing room. If you wear a jacket/coat in the testing room, it must be worn at all times. Electronic devices are not permitted in the testing room including: telephones, digital watches, PDAs, signaling devices such as pagers and alarms and calculators etc.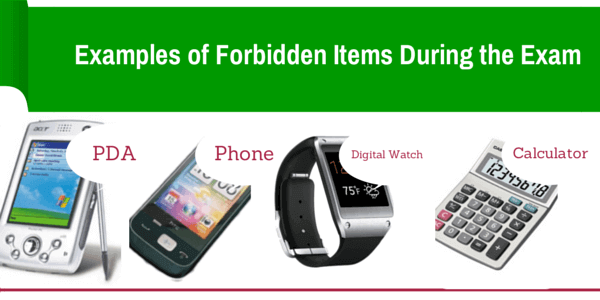 Examination Security Measures:
ACAMS has taken strict security measures to ensure the integrity of the CAMS Examination. These security measures include:
Proctors:

There will be examination proctors present before, during, and after the examination to ensure that all rules and regulations are followed.

Video Cameras:

There are high-tech video cameras surrounding the examination site of every testing center to ensure that no assistance is given during the examination.

Audio:

There is a live audio recording of each examination session at every testing center to ensure that no assistance is given during the examination.
CAMS Examination Content Outline
I. RISKS AND METHODS OF MONEY LAUNDERING AND TERRORISM FINANCING
A. Money Laundering and Terrorism Financing Methods
B. Recognition of Risks
II. COMPLIANCE STANDARDS FOR ANTI-MONEY LAUNDERING (AML) AND COMBATING THE FINANCING OF TERRORISM (CFT)
A. International
B. Regional
III. AML COMPLIANCE PROGRAM
A. AML / CFT Compliance Program Design in Different Industry Settings
B. Maintenance of an Effective AML / CFT Compliance Program
IV. CONDUCTING OR SUPPORTING THE INVESTIGATION PROCESS
A. SAR and STR Filing
B. Assistance of Institutional Investigations
C. Assistance of Legal and Government Inquiries Domestically and Internationally Within Parameters of the Law
Do you want to get more information about anti money laundering certification? Further details are available at "Tools to Become an AML Expert" section of the ACAMS website.
Case Study 1: Hong Kong investor Group vs New York branch of ABN Amro

A lawsuit filed by a Hong Kong investor group in 2004 accused the New York branch of ABN Amro of allowing First Merchant Bank, of the Turkish Republic of Northern Cyprus, to defraud the group.

According to the lawsuit, ABN Amro ignored several warnings on six correspondent accounts it opened for First Merchant Bank at its New York branch in 1998.

Soon after, the branch received two warning letters, including one from the Central Bank of Cyprus, which advised the bank of the financial and reputational risks of doing business with entities that included First Merchant. More warning letters came later, but the bank did not close the First Merchant accounts until spring 2000.

The lawsuit claimed that ABN Amro failed to conduct proper due diligence on First Merchant and its accounts and ignored a number of red flags, including:

First Merchant held only an offshore license from Northern Cyprus;
The bank had no physical offices except a small office in Northern Cyprus;
It had no banking or securities licenses in New York; and
its chairman and managing director, Hakki Yaman Namli, was sought by Italian authorities in connection with allegedly laundering $50 million.

The bank also entered into a written agreement with the Federal Reserve, which ordered it to tighten anti-money laundering controls in its New York correspondent account and clearing service divisions.
Case Study 2: Isaac Kattan and Hernan Botero Case

Isaac Kattan was a travel agent and businessman. Kattan allegedly laundered an estimated $500 million per year in drug money, all of it in cash.

Couriers from a number of cities would visit him in his apartment, leaving boxes and suitcases full of money. The bagmen were messengers from narcotics distributors.
The money was payment to their suppliers in Colombia. One of Kattan's favorite places for making deposits was The Great American Bank of Dade County. Officials in the bank were bribed to accept his massive deposits without filing currency transaction reports (CTRs).

Hernan Botero, another individual, allegedly had a similar operation which was smaller than Kattan's. He laundered only about $100 million per year out of his home near Palm Beach. The Botero group used offshore corporations to invest in Florida real estate as another way to launder money from cocaine deals. Botero was indicted in the United States and testimony in federal court showed he had bribed officers and employees of the Landmark Bank in Plantation, Florida, to accept his deposits.

The money was brought in almost daily by Botero front companies. From Landmark, the money was transferred to the Miami accounts of Colombian banks. From there, it was a simple matter to wire the money to banks in Colombia. By the early 1980s, the federal Operation Greenback had arrested Kattan, Botero, and others. Kattan and Botero were sentenced to 30-year terms in federal prison.