Letter of Credit References:
We have completed our export letter of credit consultancy services with success in regards to a letter of credit which is issued by Banque de Developpement Local on 31.Dec.2018.
The letter of credit number was INCDI000005580. Letter of credit issued in English language.
Total letter of credit amount was EUR 34.900,00. The beneficiary shipped goods in a single shipment for full letter of credit amount. Partial shipment has not been utilized.
Documents have been accepted by the issuing bank on first presentation.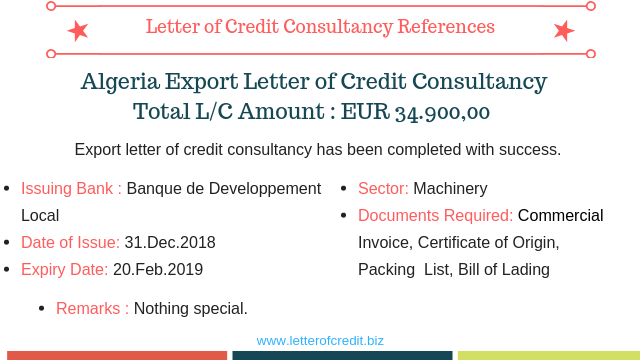 Documents Required:
Commercial invoice in 6 originals
Bill of Lading (Full Set)
Packing list in 1 original
Certificate of Origin
Specific Conditions:
As per Algerian import regulations, the NIF number of the applicant must be mentioned on the all originals bills of lading.
Letter of credit issued in a simple form without containing unnecessary conditions or documentation.
Our Work:
The exporter has supplied us the actual letter of credit.
We have checked the letter of credit and determined that the latest date of shipment is too close and needs to be amended along with expiry date.
Once the beneficiary supplied us the shipment details we have prepared the commercial invoice and packing list. We also completed the shipping instructions for the bill of lading document and filled out the draft version of certificate of origin.
After shipment, the beneficiary has sent us all of the documents for final evaluation.
The documents have been presented to the advising bank and have been checked once again to eliminate possible discrepancies.
Conclusion:
Documents have been accepted by the issuing bank on first presentation.