Letter of Credit References:
We have completed our export letter of credit consultancy services with success in regards to a letter of credit which is issued by Wahda Bank on 28.March.2019.
The letter of credit number was 114MIS.LC.49.075. Letter of credit issued in English language.
Total letter of credit amount was USD 20.345,00. The beneficiary shipped goods in a single shipment for full letter of credit amount. Partial shipment has not been utilized.
Documents have been accepted by the issuing bank on first presentation.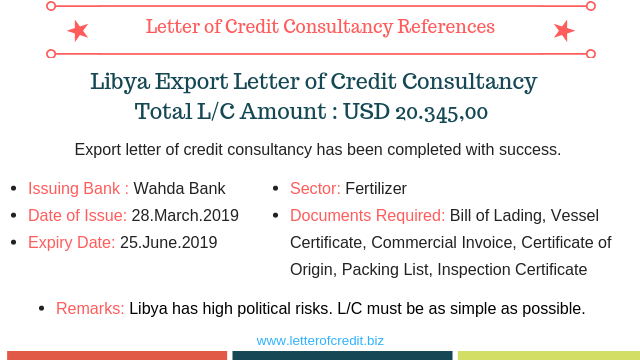 Documents Required:
Bill of Lading Full Set
Vessel Certificate 1 Original
Commercial Invoice 4 Originals
Certificate of Origin 1 Original, 1 Copy
Packing List 4 Originals
Pre-Shipment Inspection Certificate 1 Original, 2 Copies
Specific Conditions:
Libya has been dealing with political uncertainties for almost a decade and one of the highest risk possessing countries in the world.
Libyan banks demand very high discrepancy fees around 450-500 USD per presentation.
All shipments directed to Libya is subject to a compulsory pre-shipment inspection from one of the authorized inspection companies.
The letter of credit has been confirmed by a bank in beneficiary's country.
Our Work:
The exporter has supplied us the actual letter of credit.
We have checked the letter of credit and changed the delivery term from CIF to CFR and eliminating insurance policy from the L/C.
Once the amendments have been received from the issuing bank, the beneficiary has started to the production and made the shipment.
After the beneficiary supplied us the shipment details we have prepared the commercial invoice and packing list.
We also completed the shipping instructions for the bill of lading document and filled out the draft version of certificate of origin.
We also helped the beneficiary to complete Inspection Certificate Request Form.
After shipment, the beneficiary has sent us all of the documents for final evaluation.
The documents have been presented to the confirming bank.
Confirming bank found one discrepancy claiming that the inspection company indicated on the inspection certificate is not exactly matching the letter of credit.
Letter of Credit : Inspection Certificate Clause:

Pre-shipment inspection certificate in one original and two copies dully issued and signed by Kfali for Inspection and Conformity

Inspection Certificate Issued by:

Kfali Inspection Company
Confirmation drops out and the documents have been dispatched to the issuing bank unconfirmed.
At the same time an amendment request have been sent to the applicant regarding the issuer of the inspection certificate.
Conclusion:
Documents have been accepted by the issuing bank on first presentation.
The issuing bank deducted enormous discrepancy fee of USD 500 from the proceeds without indicating any discrepancy information.