The Incoterms are a standard set of trade terms used worldwide mostly in international trade. It is also possible to use them in domestic contracts of sale.
The rules define the obligations, costs and risks of sellers and buyers in connection with the delivery of goods.
When exporters and importers mutually agreed on the trade terms by stipulating them on a sales contract or proforma invoice, they are bound by these terms as a material part of the contract.
As a result, issuing banks often include these trade terms in to the letters of credit, generally under field 45-A: Description of Goods and Services.
Examples: FOB Shanghai Port, Incoterms 2010, FCA New York Container Terminal, Incoterms 2010 etc.
If the letter of credit incorporated a trade term, as mentioned above, the commercial invoice must indicate them precisely. Otherwise, banks raise a discrepancy, which is known as Incoterms not stated on the commercial invoice.
Sample Incoterms not Stated on the Commercial Invoice Discrepancy under a Letter of Credit:
A letter of credit has been issued in SWIFT format, subject to UCPURR latest version, with the following details:
Letter of Credit Conditions
Field 45A: Description of Goods and or Services: Kitchen cabinets as per applicant's purchase order no. D12020 dtd 01.06.2014, Ex-works Montelabbate Italy, Incoterms 2010.
Field 46A: Documents Required: Manually signed commercial invoice in one original plus one duplicate, the original must be certified by chamber of commerce. The commercial invoice must show 100 pct. value of goods shipped, less pro-rata deduction of advance payment made as per clause no. 1.
The beneficiary presented a commercial invoice without stating the trade terms on it.
Commercial Invoice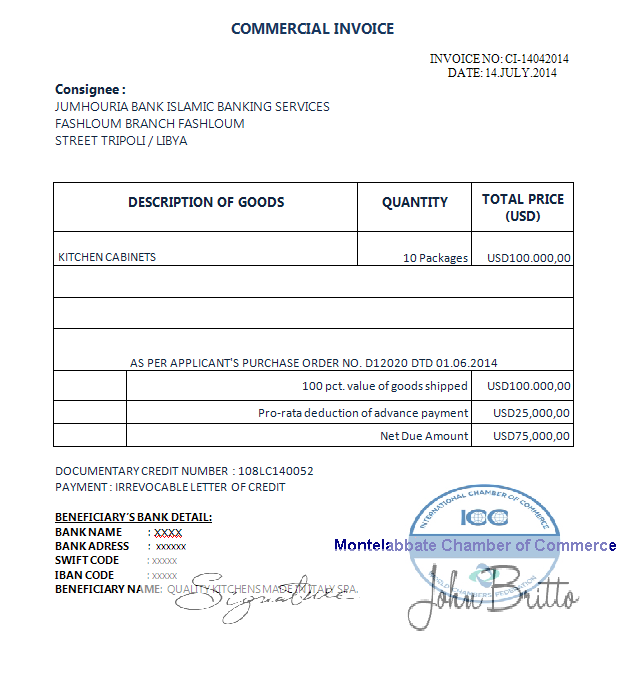 Commercial invoice does not indicate trade term as required by the letter of credit. Presentation is discrepant. "Ex-works Montelabbate Italy, Incoterms 2010." is missing on the invoice.
Discrepancy: Trade term not identified on the commercial invoice. As per letter of credit conditions commercial invoice should have shown "Ex-works Montelabbate Italy, Incoterms 2010."
Reason for Discrepancy: When a trade term is stated as part of the goods description in the credit, an invoice is to indicate that trade term.