What Does the Shipper Mean?
Shipper means a person that enters into a contract of carriage with a carrier. Shipper also known as consignor.
In most cases shipper is the exporter.
What are the Roles and Responsibilities of the Shipper?
Shipper prepares the goods for sea carriage, makes sure that the goods are packed in seaworthy manner, loads the goods into containers if needed and send them to the carrier's warehouse or terminals located at the port of loading.
All details regarding the shipment are given to the carrier by the shipper via Shipping Instructions.
Carriers can issue bills of lading with the data they have received from the shippers.
Under some certain incoterms shippers also arrange and pay for the sea freight (such as CFR, CPT) and cargo insurance (such as CIF, CIP).
Shipper Example:
Shipper is the Exporter:
Under a cash against documents payment a Greek olive oil exporter makes a shipment to an importer located in Australia.
The importer agrees to pay the contract amount in full against presentation of documents.
The goods have been shipped under CFR trade terms and shipment takes place between Thessaloniki Port, Greece and Melbourne Port, Australia.
As freight will be paid by the seller the freight notation that is mentioned on the bill of lading is Freight Prepaid.
The bill of lading consigned to order of the importer's bank in Australia, which is ANZ (The Australia and New Zealand Banking Group Limited). The bill of lading is issued in negotiable form.
After production stage, shipper gets freight quotations from several container lines and freight forwarding companies in Greece, books the container and prepares the Shipping Instructions document.
Carrier states description of goods, number and kind of packages, consignee field, notify party field, shipping marks and remaining details as per shipper's instructions.
Export formalities also are handled by the shipper.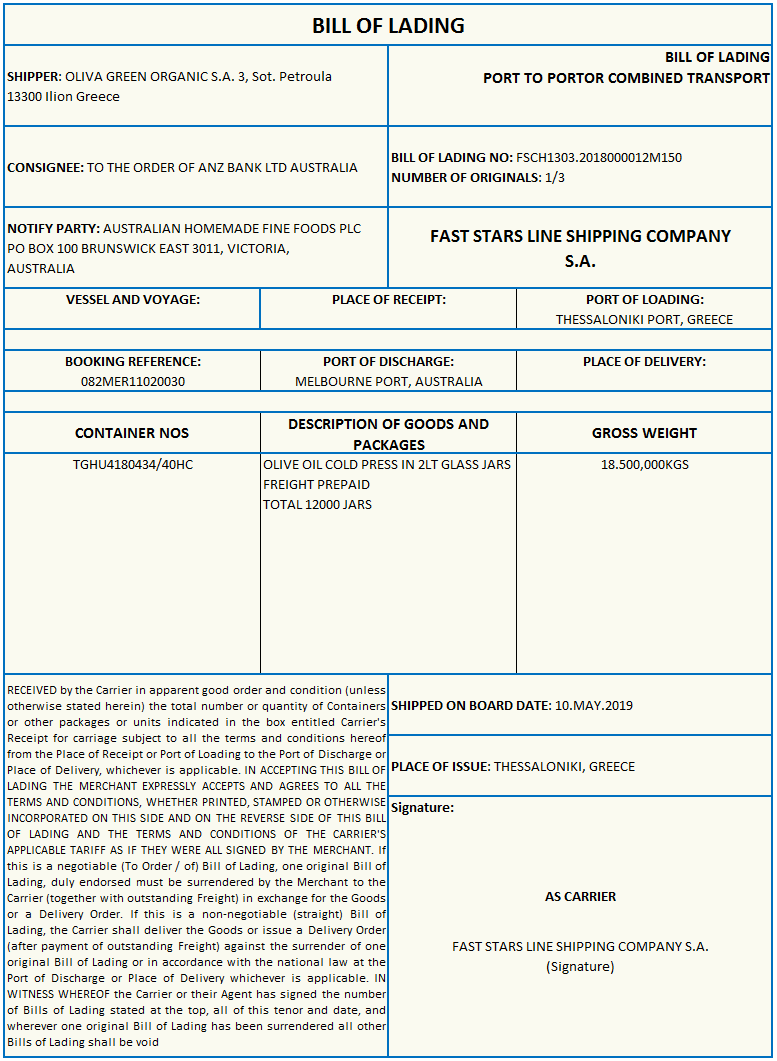 Points of Consideration When Filling Out Shipper Field:
Shipper enters into a contract of carriage with the carrier.
Shipper informs almost all of the details stated on the bill of lading to the carrier. Any mistake at this stage may create painful problems.
Related Articles: